PCKF Archive
Main Page | ezboard | Jazz Mega Message Board | InsideTheWeb | More Keen Stuff
More Keen Stuff
In the future, "More Keen Stuff" will contain multiple subsections. At the moment, only the following one is available:
Fanart - Hundreds of pieces of Keen-related art.
Below is the old version of the page:
Fan Art by Gizmo | Fan Art by eK | Xky Rauh's Keen Music Pack | CK Newsletter Issue 11 | Fan Art by Scizor CT | Concept Art of Zorath's Mod | Images of DSL's 3D Keen Movie | baCK by OnkelPeterle | RKeen4 by Q90 | matlarsen's Goodbye Galaxy Movie
Fan Art by Gizmo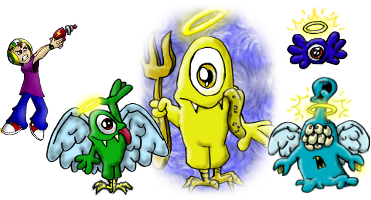 Downloads Below (332 KB Total) | Mar 2002 Topic
With one exception, the following images, created by November 1999, appeared on a page of Gizmo's website alongside other cool artwork. Said page remained online until mid-2020. The images depict angelic versions of a Bloog, Fleex and Orbatrix, as well as a regular Bloog and the BloogGod himself. Gizmo also did two familiar buildings of Fribbulus Xax in 3D. As he was a contributor of the lost site Bloogology 314, it's possible that at least some of the pictures appeared at that place, too (and he probably made its splash page image). Additionally, there is an image of Commander Keen also taken from Gizmo's (former) webspace, created by April 2000. The artist, real name Ned Hugar, gave me the permission to rehost his old Keen art. Click on a thumbnail to view the image at full resolution (excluding the Orbatrix).









Fan Art by eK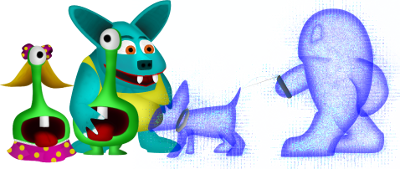 Download (3,7 MB) | Oct 2002 Yorp Family Topic
For the splash screen of the level editor Keen MakeOver v2.0, eK created a picture of a Yorp after the "makeover". It later became the basis for the Yorp family that was used by PCKF member Yorpy as her avatar image. eK sent me the raw PSD files and two JPEG files. Not only the Yorps were included, but also a Vorticon Woman and a Shikadi with their pets. The PNG images below are derived from the PSD files. Click on a thumbnail to view the image at full resolution (one of them is a JPEG file). The ZIP archive contains eK's PSD and JPEG files as well as the PNG ones.











Xky Rauh's Keen Music Pack


Download (35 KB)
Twelve updated Keen songs released by Xky Rauh in MIDI format. In addition to the seven files from DOS Classics, the ZIP also contains four songs that I received from Xky. Listen to these great tunes. By the way, The Armageddon Machine MIDI won the Keen Award for Best Song of 2003. In 2021, Xky published a new MIDI based on a Keen GBC song, which is also included. As a bonus, the pack comes with two Cosmo's Cosmic Adventure MIDI files by Xky, too.
They can be downloaded individually as well. You might be able to listen to them via your browser, depending on the program and its configuration.
Commander Keen Newsletter Issue 11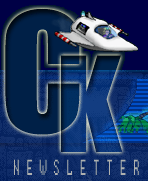 Download (29 KB)
The December 2002 issue available at the last CK Newsletter site is missing a part of section 4.1 (Ilsoap's fanfic) as well as all subsequent sections. Here's the complete issue, retrieved via the Wayback Machine.
Fan Art by Scizor CT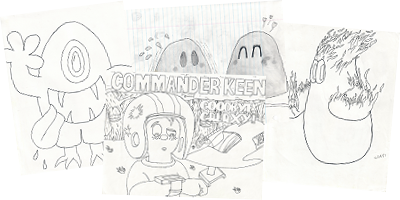 Download A–H (33,5 MB), J–O (34,7 MB), P–Y (36,9 MB) | Feb 2003 Topic, Oct 2003 Topic
In 2003, Scizor CT (Sciz for short) posted various nice drawings in two threads called "Dopefish, Shikadi, Mimrocks, oh my!" (DSMOM, see the links above). They were scanned and (with the exception of some sketches) digitally cleaned up and in most cases also coloured. Some of the images were missing, so I asked their creator about their whereabouts. Sciz lost the files long ago, but still had the original sheets and scanned them all, including several previously unpublished drawings. The 47 high-res scans, split among three ZIP archives, are up to 6600 pixels in size on the longer side. By clicking on one of the following thumbnails, you can view the large image, but reduced to 2000 pixels on the longer side.

With the exception of the last image, these sketches were the first drawings posted by Scizor CT. The last sketch sheet was mentioned, but apparently not published in the second DSMOM thread.







Sciz drew quite a few creatures from Keen 1, 4, 5 and 6, many of them being closely based on the sprites. The majority, but not all of the following pictures were posted in the DSMOM threads, where you can also find digitally coloured versions. There are the Bean-with-Bean Megarocket and the heads of Mort and Keen, too.






























Jack-o'-lanterns with well-known faces. The Robo Red one is available in colour.




Recreations of the title screens of Keen 4 (coloured version available) and Keen 6. And two Shadowlands scenes, with the first one being named "Lazy Day", while the second picture contains King Lick from Ilsoap's animations.




Scizor CT also created concept art for the Commander Keen Community Mod (CKCM). The drawings of the episode 1 and 3 maps and the wooden slug house were posted in the thread "The Game World" (2003) in the Keen: Modding forum. The concept art of various objects later appeared in "Hey creeew?!" (2004).




Concept Art of Zorath's Mod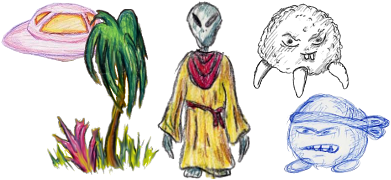 Downloads Below (256 KB Total) | Apr 2003 Topic
Until August 2003, Zorath ran a website named Maximum Commander Keen. In April 2003, he added concept art and screenshots of his Keen 1 mod (links to the former had already appeared in the CK Newsletter) and posted the news in the PCKF (see the topic above). The promising screenshots show that the mod would have used a tilted view like in Keen 3.5–6. There would have been different planets, including a jungle world and Vorticon VI, and a protagonist other than Keen. The development never really went beyond the creation of tiles and a test level, though.
Zorath sent me both the concept art and screenshots, the latter can be found in the aforementioned PCKF thread. Click on a thumbnail to view the image at full resolution. Additionally, I received a seventh screenshot, too.









Renders and Concept Art of DSL's 3D Keen Movie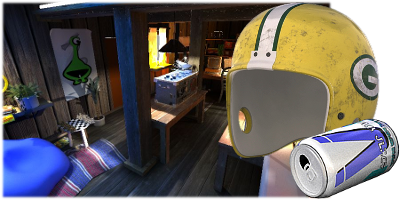 Downloads Below (6,60 MB Total) | Oct 2004 Topic, Aug 2005 Topic, Mar 2010 Topic
In the 2000s and early 2010s, DSL worked on a 3D Keen movie, an animated adaption of the opening of Secret of the Oracle. Over time, he informed the community about the progress by posting quite a few cool images. So cool that he received the Keen Award for Best Graphical Artwork of 2004. I was disappointed to learn that not a single render posted from 2004 was archived (with the exception of a 2010 one I only found later), so I contacted DSL and he still had some pictures. It's a fraction of the collection, but in any way, it's nice to have them back. Click on a thumbnail to view the image at full resolution.
The following image of a Keen model was published in 2003, the year when DSL had joined the PCKF, and added to Xtraverse's site then. It's only here to show at least one model of the main character, as all later (and, of course, much better) models are missing. I don't know if DSL already had a movie in mind in 2003.


In October 2004, he created a topic about his 3D Keen movie and posted various images of his detailed 3D works. DSL sent five of the pictures to me. They show Vorta-Cola cans, the interior of Billy's backyard clubhouse and the Photachyon Transceiver. Another thread containing more neat images was created in August 2005, but sadly, none of those is available.





I also received a more recent render of Billy's (actually, his brother's) football helmet. You can watch a short animation of the helmet spinning, too. Both files are from May 2009, it seems that they were not posted in the PCKF.



An image that definitely became public back then is the following render of Vorta-Cola cans and the helmet from March 2010. DSL told about the project's developments and revealed that he is collaborating with Mort, creator of Commander Keen: The Comic Strip. I didn't receive this picture from DSL, it was mirrored by KeenRush.


Mort was contacted by DSL at some point in the late 2000s. He was given the task of creating character designs, with DSL intending to model the animated characters around the drawings. The result of Mort's work were the following quality model sheets dating to June 2009. While DSL told the community about the collaboration, its product was kept a secret at the time. But after having long lost communication with DSL, Mort eventually published the images on keencomic.com in March 2015. Note that the Keen sheet is different. The other images I received from DSL are identical, but they are larger, especially Mr. and Mrs. Blaze.








baCK by OnkelPeterle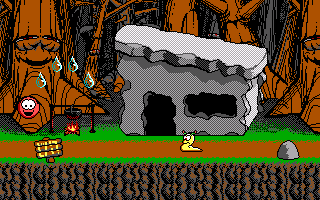 Download (671 KB) | Jan 2006 Topic
An early version, namely 0.02, of a port of the Galaxy engine. You can only view Border Village from Keen 4, which contains a Bounder and a Poison Slug. Use the arrow keys to scroll. The Slug's direction can be changed by holding Ctrl and pressing the left or right arrow key. If you press Alt, it gets stunned. The program can be closed by pressing the space bar.
The included SDL.dll is required to run the executable file. Furthernmore, the files EGAGRAPH.CK4, GAMEMAPS.CK4 and KEEN4E.EXE (decompressed) of the original game are needed. I added them to the ZIP archive which I received from Commander Spleen, so you can start baCK right after unzipping.
RKeen4 by Q90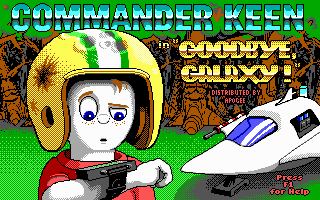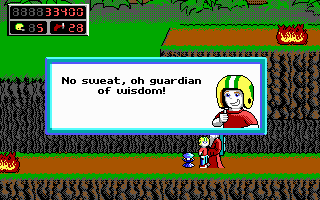 Download (598 KB) | Mar 2006 Topic, Jul 2006 Topic
A Keen 4 skin mod, Keen's shirt is changed from pink to red. Not only Keen's sprite is modified, the shirt is recoloured everywhere. Q90 released the first version of RKeen4 on Keen Day 2006 (the ZIP might not contain the most recent build). RKeen5 and 6 also exist, but I don't have them.
Remnants of Matthew Larsen's Goodbye Galaxy Movie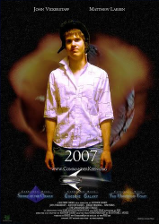 Downloads Below (19,8 MB Total) | Apr 2006 Topic, Dec 2006 Topic
In April 2006, a young filmmaker named Matthew Larsen (matlarsen) announced that a movie based on Goodbye, Galaxy! is in the works. He posted information on its production as well as numerous images and music files until December. All four MP3 files are available (thanks to Malvineous for digging them up), but only a single image survives. The actual names of the creators are unknown, as Matthew only used generic terms like "music guy" and "FX guy". Three of the tracks can be found on the KeenWiki's Keen Remixes page, but the following list includes all of them for the sake of completeness.
• Poster (cropped from Galaxieretter's screenshot, not the full resolution)
• Overture (ck_overture.mp3) – Keen medley
• Bloogwater Theme (bloogwater.mp3) – Aliens Ate My Babysitter
• Keen Beach (keen_beach_draft.mp3) – Tropical Ghost Oasis
• Keen Montage (keen_montage_02.mp3)
Commander Keen © id Software. This website is not affiliated with id Software in any way. The copyright of each post is believed to be owned by its respective author.